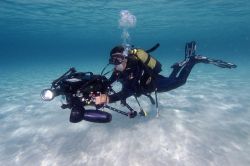 Small Diver Detecting Hydroacoustic Station (HAS)
This station is designed for divers detection by means of providing:
- Ships, yachts guard while mooring in port,
in the open sea and in roads
;
- Industrial objects guard in ports, harbours;
sea oil-gas platforms and pipelines guard
;
- Divers
detection
while
carrying
out
training submersion
;
- Divers
detection
while
carrying
out
underwater research, rescuing, assembly and other operations.
The information about divers location is represented on
hydroacoustic station
display screen.
Having detected divers' unauthorized intrusion and/or their relocators,
hydroacoustic
station
transmits this information to warning systems and, if necessary, to underwater objects combat distraction system.
Hydroacoustic station doesn't need special space for its location and may be operated directly from the boat board, yacht board and shipboard, from pier or platform.
Depends on the hydrology of the operation place

Considered under delivery

Diver determination accuracy

:

-

with distance determination

-

with azimuth determination

20

3600

300

Considered under delivery

Depends on the composition
16.11.2009