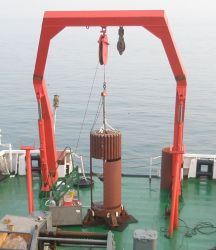 HYDROACOUSTIC AUTONOMOUS ANCHOR STATION
Authors: Shamarin I., Shamarin A., Boretskyy A., Alekseenko A.

The constructive building and the functional features of the hydroacoustic autonomous anchor station are thoroughly viewed in this article.
Such station is aimed to reveal underwater objects by using vector-phase methods of signal processing.
The article is published in the Science-technical Journal "Technological Systems" N 3(47)/2009. Kyiv, Ukraine.
02.06.2009